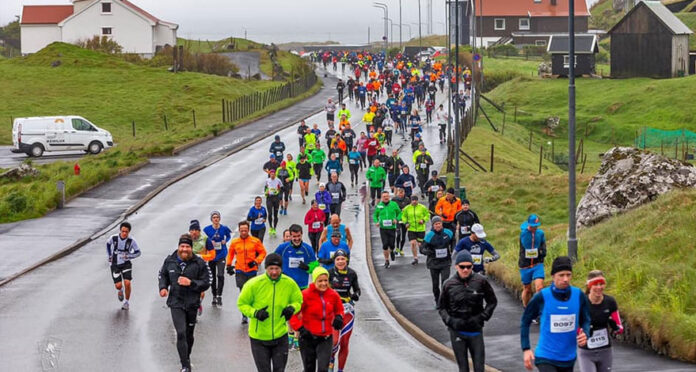 Tórshavn Marathon 2021 avlýst
Tórshavn Marathon, sum skuldi vera 26. september 2021, er avlýst.
Upprunaliga skuldi ársins renniveitsla – Tórshavn Marathon – verða 6. juni í ár. Fáar dagar undan renningini tók korona seg upp av nýggjum í Føroyum, og vit valdu at fylgja tilráðingunum frá myndugleikunum og útseta renningina. Vit avlýstu ikki, men útsettu til 26. september 2021.
Nú 26. september 2021 nærkast kunnu vit tó staðfesta, at tað ikki er lætt at flyta eitt tiltak, sum Tórshavn Marathon. Fólk venja leingi og málrættað til eitt marathon, og vit mugu ásanna, at týdningarmiklasta grundarlagið undir Tórshavn Marathon – rennararnir – ikki í nóg stóran mun eru til staðar.
Vit vilja, at Tórshavn Marathon skal vera ein stór renniveitsla, har luttakarar úr øllum heiminum eru við. Tað hevur ikki eydnast okkum at fáa neyðugu tilmeldingarnar til, at vit kunnu halda Tórshavn Marathon 2021, soleiðis at rennararnir fáa ta uppliving, sum vit vilja, teir skulu hava.
Vit eru ótrúliga hørm um, at vit nú – fyri triðju ferð – bera boð um, at Tórshavn Marathon 2021 ikki verður.
Vit fara tó at leggja okkum eftir, at Tórshavn Marathon 12. juni 2022 verður tað besta higartil.
Tú var meldað/ur til Tórshavn Marathon, sum skuldi verða 26. september 2021 og tín tilmelding verður automatiskt flutt til renningina, sum verður 12. juni 2022.
Um tú hevur spurningar, ert tú vælkomin at venda tær til okkara á telduposti torshavnmarathon@bragdid.fo.
Fyri Tórshavn Marathon
Ítróttarfelagið Bragdið
Tórshavn Marathon 2021 cancelled
We regret to inform that yet again Tórshavn Marathon is cancelled.
Tórshavn Marathon 2021 – which was for habitants on the Faroe Islands only – was supposed to be held on 6 June 2021. Unfortunately a few days before 6 June a new Covid-19 outbreak on the Faroes resulted in the postponement of the run.
We chose to postpone to 26 September and not to cancel. However now that 26 September 2021 is getting closer we have to acknowledge that postponing an event like Tórshavn Marathon is easier said than done. People train long and hard for a marathon race and we have to recognize that the most important part of Tórshavn Marathon – the runners – are not ready.
We want Tórshavn Marathon to be the running event of the year with participants from all over the world. However we have not been able to get enough runners to sign up for the run in September and therefore we have decided to cancel this year's run.
We are incredibly sad to announce – for the third time – that Tórshavn Marathon will not be held.
We will work hard to make sure that Tórshavn Marathon on 12 June 2022 will be the best Tórshavn Marathon yet.
You were registered for Tórshavn Marathon on 26 September 2021. Your registration will automatically be moved to Tórshavn Marathon on 12 June 2022. If you have any questions, please contact us by e-mail on torshavnmarathon@bragdid.fo.
On behalf of Tórshavn Marathon
Ítróttarfelagið Bragdið